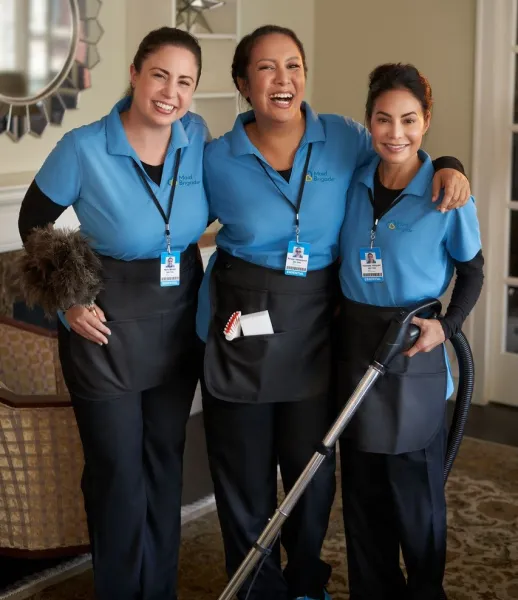 DIVERSE BACKGROUNDS ARE WELCOME
Maid Brigade understands that consumer service businesses are driven by on-going relationships. Recurring transactions are a big driver for growth and profitability in your Maid Brigade franchise, after all.
The successful Maid Brigade franchise owner is one who has good interpersonal skills and enjoys interacting with others - both employees and customers. You don't have to be a polished salesperson - in fact we prefer that you're not. The successful Maid Brigade franchise candidate finds joy in helping customers solve problems and helping employees to do their best work.
We also encourage our start-ups to make a plan for division of labor from day one.
What are we looking for in a franchisee?
If you are a people-person, you should be on the front lines with customers and prospective customers. Hire an office person to focus on the operations nuts and bolts.
If you yourself are gifted with the back-office operations, be sure to hire a manager skillful in interpersonal relations, to be the face of your brand.
Finally, but perhaps foremost, successful Maid Brigade franchise start-ups enjoy making an immediate difference in the lives of others: customers who want to spend their time and energy raising families and pursuing careers, hobbies, health and wellness and their own efforts to make a difference in the lives of others.

What makes a successful Maid Brigade franchise territory?
Because every market is different, there is no perfect combination of criteria for a successful territory. We will work with Maid Brigade franchise candidates to analyze the demographics in a given area and assemble a portfolio of contiguous zip codes to comprise between 25,000 – 40,000 total qualified households based on annual income of $100,000 or more.